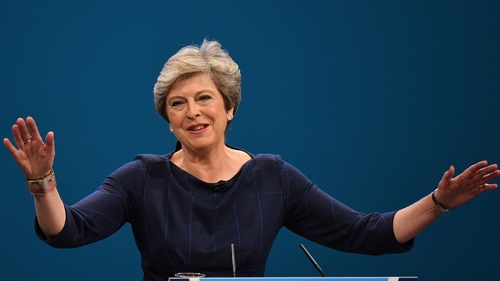 Delivering the #keynote speech at the #Tory Party conference in Manchester should have been Prime Minister #Theresa May's opportunity to put things right amid the in-party turmoil that she is facing and the questions raised over her leadership.
"It's not enough and quite frankly they should shut up about it", the MP said. Most MPs had accepted her statement that she was in this for the long term as a way of retaining what little authority she has rather than a genuine ambition.
Grant Shapps compared her premiership to the ailing end of Gordon Brown and John Major's, saying: "I don't think we're heading anywhere different".
The Telegraph reported that up to 30 Tory MPs want to see May gone.
On Wednesday the country watched on in amazement as Theresa May's highly-anticipated speech to the Conservative Party conference descended into farce. That's why for more than a century it's been Conservative education secretaries who've driven the reforms that have widened access and raised standards.
But she told the conference that it was now clear that the energy market was "broken" and that those being "punished" by higher prices were the most loyal customers, often the poor, elderly and less-educated and those in rented homes.
May then struggled her way through her speech, coughing and spluttering, and letters on the messages in the backdrop behind her started to fall off. "Not just one thing going wrong but a snowballing of things going wrong, and I've got to be honest as a human being, as a politician I feel for her".
May's conference speech dominated Thursday's newspapers, which had sympathy for her bad luck but bleak warnings about what the string of misfortunes signalled for her leadership.
The prankster tagged Foreign Secretary Boris Johnson, who has been rumored as a replacement for 10 Downing Street since May's poor performance in elections this summer.
"Boris has left me in the lurch!"
She was fiercely criticized for calling the snap election and used the speech to apologize for a campaign that she labeled as "too scripted, too presidential". As she spoke, Johnson was embroiled in another row, this time over Libya, following comments he made at a fringe event on Tuesday evening.
May said, "This Conservative Party must pledge to renew the British dream in this country once again".