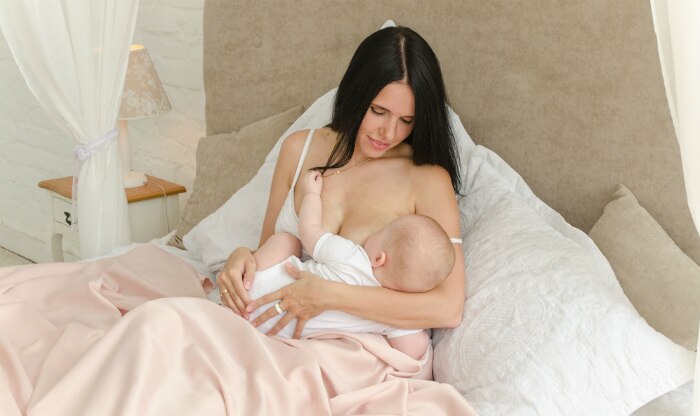 At the event in Abuja, she inaugurated the Breast-feeding Advocacy Initiative with the theme: "Sustaining Breastfeeding Together".
The report, which was authored in 2013, shows that 37 percent of children under five years are stunted, 29 percent are underweight while 18 percent are wasted while another report by International Fund for Agricultural development (IFAD) in 2012, showed that 8.5 percent of the total population are under-nourished.
Today, Sierra Leone joins other countries to celebrate World Breastfeeding Week.
Research found only 34% of babies in the United Kingdom are receiving some breast milk at six months, compared with 49% in the USA and 71% in Norway. In Limpopo, initiatives have included training for community health workers, and involving men and grandparents in breastfeeding promotion, acknowledging that women with support are more likely to optimally feed their children. Despite the law, Anung noted that implementation has continued to be a challenge for the government.
Consequently, UNICEF and WHO have come together with 20 prominent worldwide agencies and non-governmental organizations to form the Global Breastfeeding Collective, to be launched on August 1, the first day of World Breastfeeding Week. "By comparison, in 1994, both Ghana and Nigeria had both exclusive breast-feeding rates of 7.4, but by 2013 Ghana had moved up to 63 per cent", the report said.
Dr Abo Hamed said that any amount of breast milk is beneficial, and the longer mothers breastfeed their babies, the longer the protection lasts and the greater the benefits. Breast milk - as it helps in preventing pneumonia and diarrhea, the two major reasons behind infant deaths - is considered critical during the first 6 months of life.
Importantly, eight out of ten said they breastfed their baby within the first hour of birth, which is vital and significantly reduces deaths within the first 28 days.
Mothers who do not breastfeed have a higher risk of premenopausal breast cancer, ovarian cancer, Type 2 diabetes and cardiovascular disease. "It is also one of the most effective global services to curb malnutrition".
"If targets for 50 per cent of babies to be exclusively breastfed by 2025 are met, 520,000 children's lives could be saved over the next 10 years".
"The low rate of exclusive breastfeeding leads to more than 100,000 child deaths and translates into nearly $12 billion in future economic losses for the country which is being incurred in terms of health facilities, hospital space, logistics, investments, overhead cost among others".
The RCPCH is calling for a long-term plan to change the culture of breastfeeding, involving educating children at school, families and the wider public.
The launch-simultaneous in two other countries after a global launch last Thursday-also flagged off the World Breastfeeding Week to promote, protect breastfeeding and adequate child feeding practice.